If Kennel Connection posts a new update and you'd like to get it installed or you have been advised by a support representative to install the update, please see the instructions below.

Requesting and downloading the update file.

2. From there, click the Request KC Files button and fill out the form it brings you to.

3. At the bottom of the form, select Update Only and click Submit.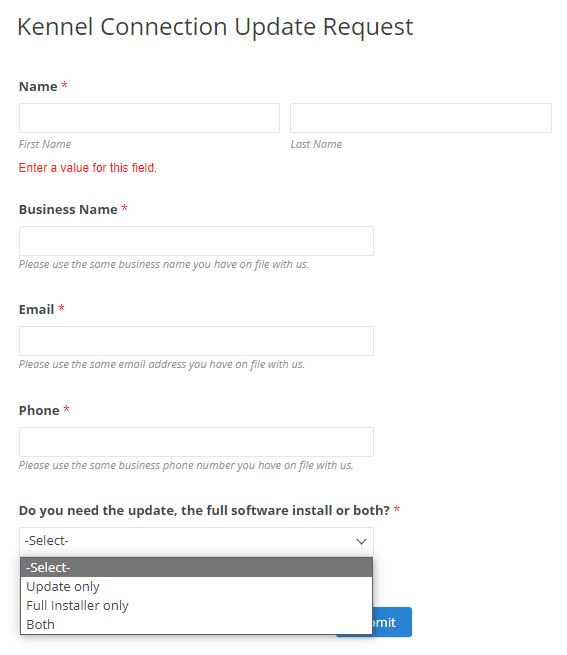 This will bring you to the confirmation page.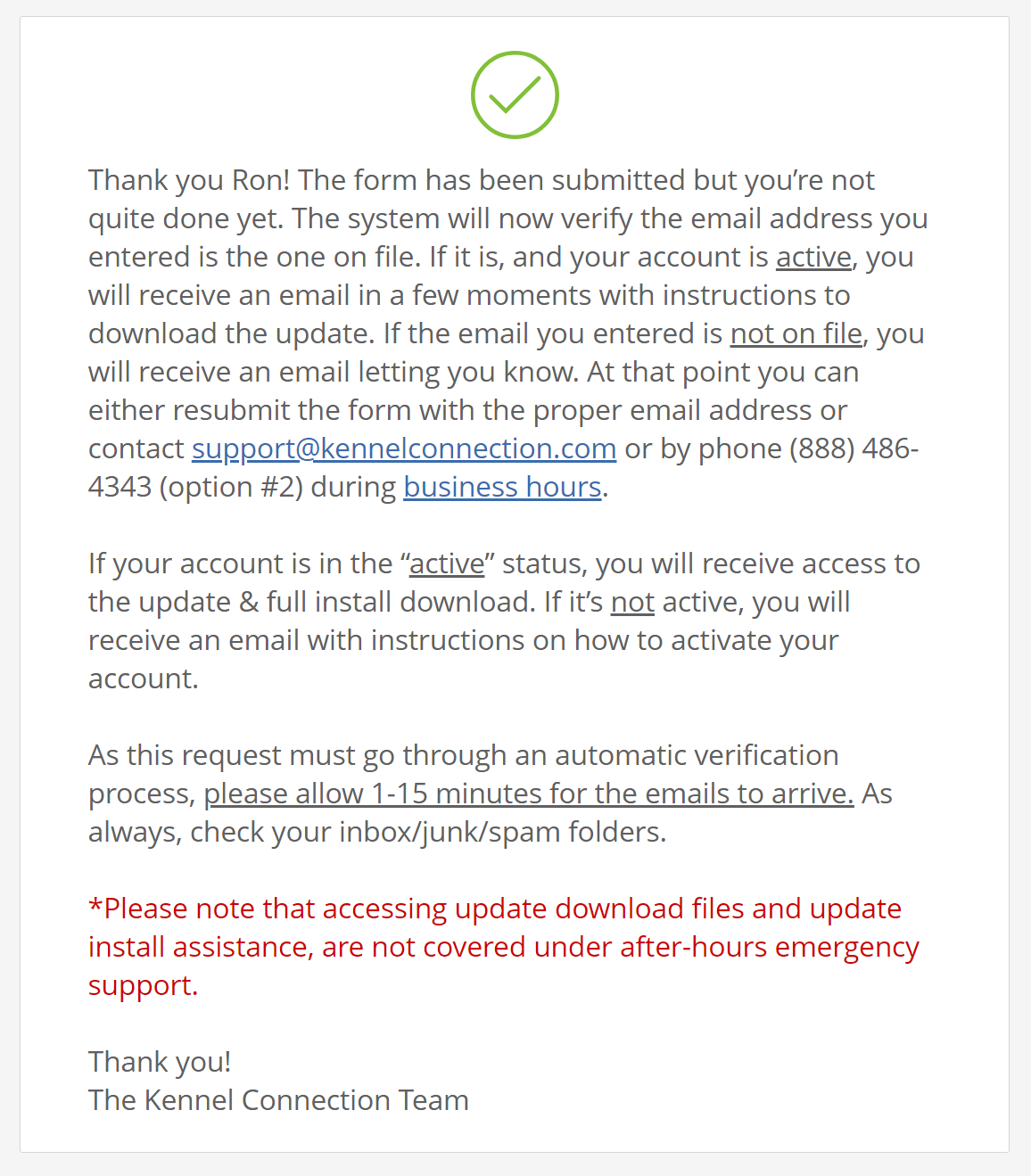 Check your inbox for an email with links to download your requested files. Click the link that is sent to begin the file downloads.

Note:
Due to automatic account verification steps, emails may take anywhere from 1-10 minutes to be received. Be sure to always check your inbox/junk/spam folders as well
.
Note:
The update file will either need to be shared out to other computers over your local area network or put onto a flash drive/external hard drive and copied to each workstation if you have multiple machines.
Close Kennel Connection on all computers.
It's best practice to have KC closed on all computers before continuing. Have your users finish their work and close out of the software.
Move to your host/server computer
If you have more than one computer that runs Kennel Connection, one of them is the host (where the database lives.) Move to that machine and start there.
Backup your database.
Most importantly, the first thing to do is backup your database using the KC backup/restore utility. If you do not know how to do this, please see this article: Backing Up Your Kennel Connection Database
Click the KC7-7XX.exe (The file name changes with each version posted) first and if that fails to download, click below to manually start it. Save the file when prompted.
Run the update file.
If you used Chrome or Edge browsers, the download should be shown on the bottom left. If you used Firefox, it will be the little blue arrow in the upper right. Alternatively you can press CTRL + J to show downloads.
Click Next.
The update will now automatically install. No further action is needed until it completes.
Click Finish.
Click the finish button to close the installer. You may now open up Kennel Connection on this machine.
Repeat process on any and all workstation computers.
If you have workstation computers with Kennel Connection installed, you must update those as well. Here are some ways you can get the same update file to all computers:
1. Save the update file you downloaded to a USB flash drive and take it to each computer.
2. Save the update file you downloaded to your KC7 folder on your host computer as this should be accessible via the mapped drive on each workstation. Open the mapped drive on each workstation and run the update file.
3. Download the file on each computer using the same steps above.