If you're reading this article, odds are you're attempting to use an @gmail.com account OR a Google Workspace (paid Google email account) inside of Kennel Connection to send emails to your clients and the email settings are failing OR you're attempting to update your account security settings to use an App Password before May 30th, 2022.

One of the common email errors that you might see when you use the "Test email" button inside Kennel Connection is:

534-5.7.9 Application-specific password required. Learn more at
534 5.7.9 https://support.google.com/mail/?p=InvalidSecondFactor s5sm2102188qkg.88 - gsmtp

Failed to login using LOGIN method
Failed to connect to SMTP server.
If you're seeing this error, or you're here to update your settings before May 30th, 2022, please continue below.

Previously Gmail used to use an option called "Less Secure Apps". Without this option turned on, you would be unable to send emails from third-party applications such as Kennel Connection. It just simply wouldn't connect. This "Less Secure Apps" option will be or has been removed on May 30th, 2022, and the new option to continue sending emails through Kennel Connection is by creating and using an App Password.

Let's get started:

---
Step 1 - Creating an App Password in your Gmail Email Settings
Using the paid version of Gmail called Google Workspace? Please contact your email administrator and ask them to setup an app password.
First, l
ogin to your Gmail account. Click here to access your Gmail Account Settings page directly:
https://myaccount.google.com
.
(If you have multiple Gmail accounts, please make sure you're logged into the correct account. To verify which account you use in Kennel Connection, open KC and go to File, Business Info, Email and the email address entered in the username field, is the correct account.)
Click on the letter at the top right of the screen and click on Manage your Google Account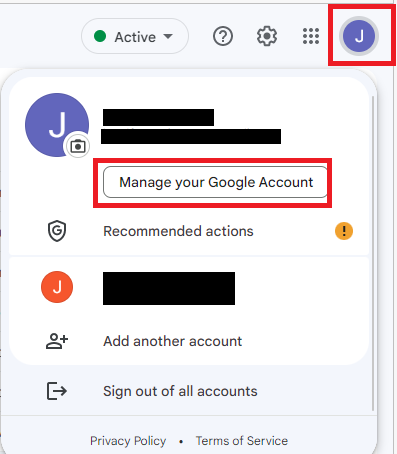 Click Security on the left-hand menu.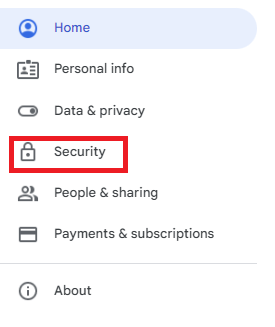 NOTE: If you DO NOT use 2-Step Verification, you MUST enable that first for this to work. (2-Step Verification is when you go to login to Gmail using your email address and password but before it allows you to login, it sends a code to your phone number via text message OR other method. Then you have to enter that code before it takes you to your account.) If you already use it, skip down to Step 3 "Creating App Password" section.

---
Step 2 - Enabling 2-Step Verification in Gmail.
Click 2-Step Verification to set it up.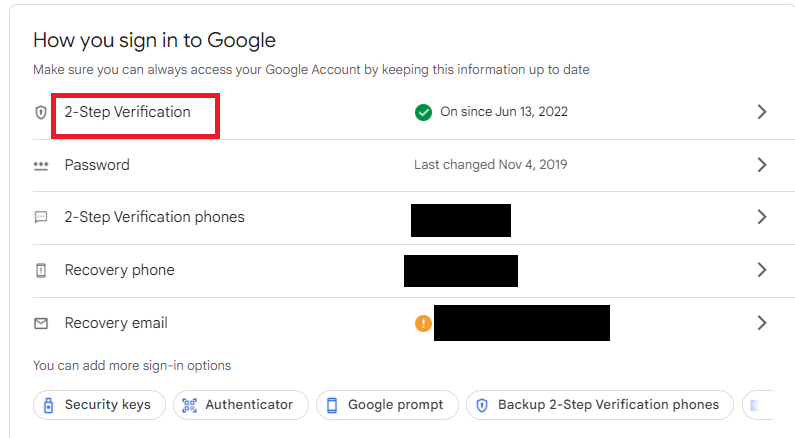 On the next screen, click Get Started. It may ask you to login again with your account password. If it does, please do so and click Next.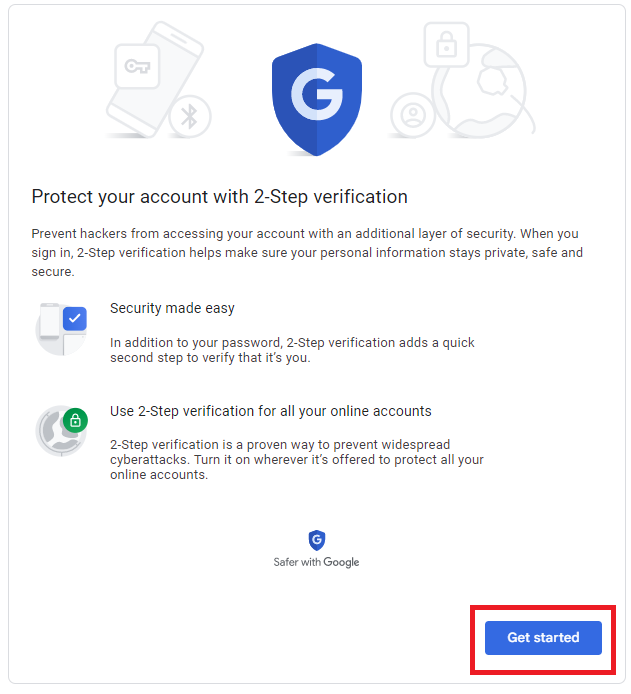 Enter your cell phone number (where you receive text messages to.) Then choose whether or not you want an automated phone call OR a text message with the code. Then click Next.
IMPORTANT: Google will now send you a text message with a code. When you receive the code, enter the code into the field starting with G- and click "Next".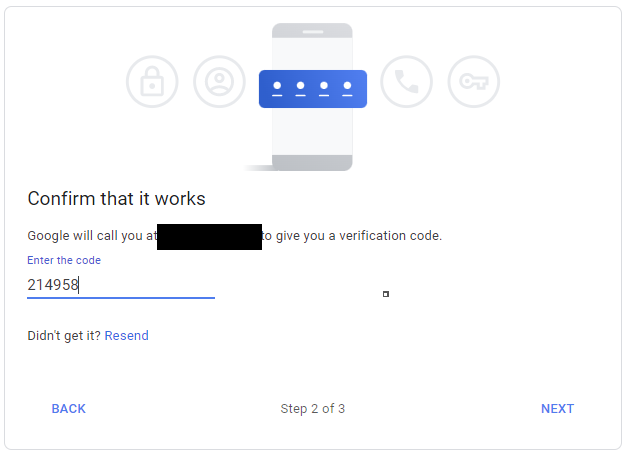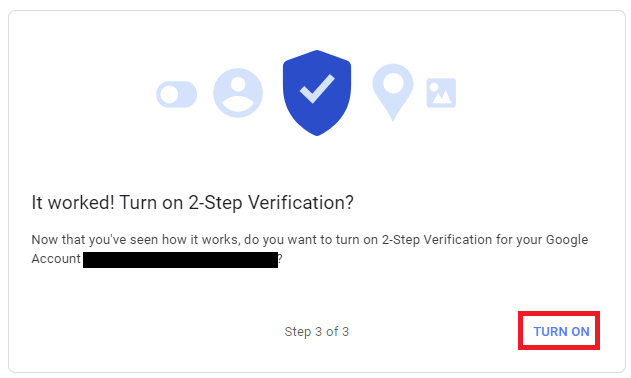 You have successfully enabled 2-Step Verification for your Gmail account. Note that each time you login to Gmail now from unfamiliar devices, it will send you a passcode that you have to enter.

TIP: 2-Step Verification is extremely important for many websites to protect your accounts. Along with most IT Security Engineers, we strongly recommend enabling 2-Step Verification for all your important accounts that have this option available such as banking, bill payment, social media accounts, email accounts and more. This is an easy and quick way to prevent unauthorized access to your critical accounts.
---
Step 3 - Creating App Password.
Once you turn on 2 way verification, it will take you out to the security screen again. Click on 2-step Verification".
Scroll to the bottom of that page and click the arrow for App password.

Gmail may ask you to enter your account password again. If it does, please do so and then click Next.
Click on the "Select app" drop down and choose "Other (Custom Name".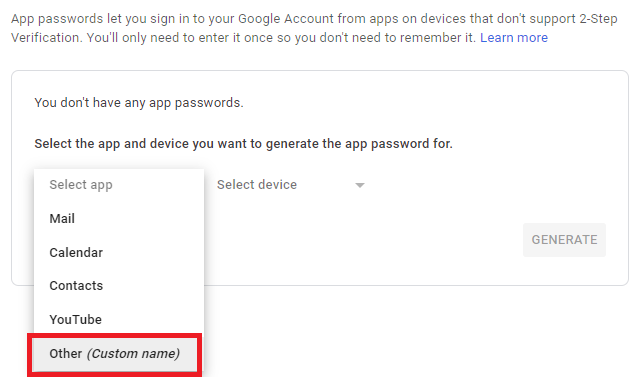 Type in Kennel Connection and then click "Generate"

Google will now show you your new App Password that you will use in Kennel Connection for your email password. Please copy and paste this to notepad or another document for storage or write it down.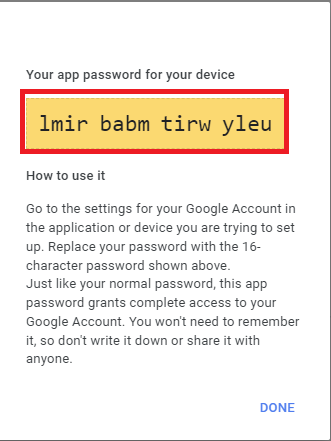 Click Done and you'll see Kennel Connection in your list of App Passwords.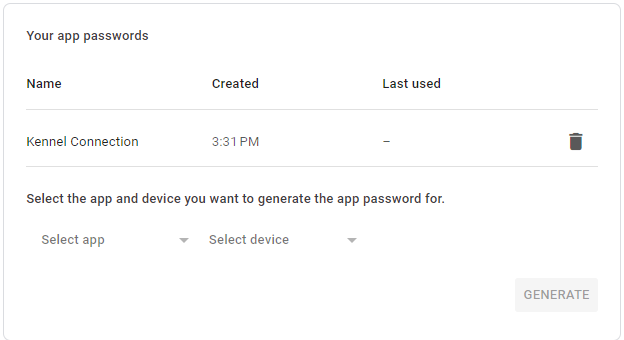 ---
Step 4 - Entering your new App Password into Kennel Connection.
Now that you have your new App Password, open Kennel Connection. (Any computer that you have KC installed on is fine.) Click File, Business Info, Email tab. This is where your Gmail settings are stored so KC can use them to connect and send emails.
Locate the password field. Clear it out and paste or type your new App Password in. Once you've properly entered your new App Password, click the "Test email settings" button. It should now succeed and a test email will be sent.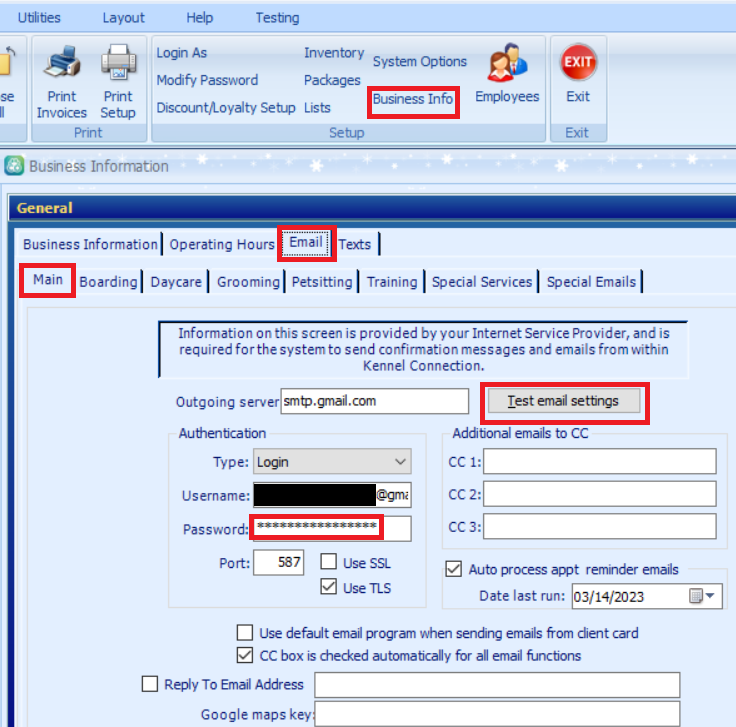 NOTE: If you get an error, please choose to display error log. Click the "Copy" button and send an email to
Support@SoftwareConnectionLLC.com
Please paste the entire email error log into the email.
Please note that Kennel Connection support will analyze the email error log and possibly provide some troubleshooting steps, however, there's no guarantee that KC support can resolve the issue. When the error log is displayed, it's an error coming directly from your email providers email server. We just capture the error to display. If it's an actual KC error, it will be an unhandled exception error and not an email error log. We reserve the right to refer you to your email provider's support at any time.